Home on the Range: Podnah's Pit, Portland, Oregon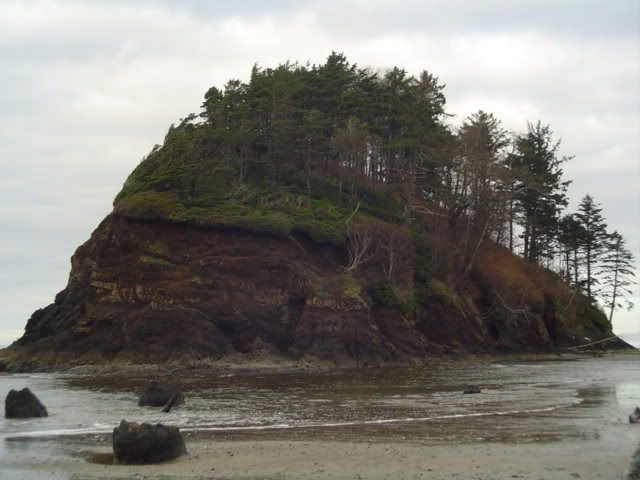 The wife and I were out in Portland, Orgeon for Thanksgiving, which was an absolute blast. We spent a few days in and around Portland, and a few days on the coast. What a beautiful place. While the weather seemed to switch from sunny and mild, to grey, windy, wet and cold and back to sunny in the time it took to blink, it was still quite lovely.
Portland is an eater's city. It has a wonderful array of ethnically diverse, inventive restaurants that focus on fresh, high-quality, local ingredients. They really support their local farmers and strive not to compromise flavor to chase foodie fads as much as it seems chef's in NYC will attempt. All of that being said, my highlight meal, not surprisingly, was at a new bbq joint called Podnah's.
Podnah's Pit's owner, Rodney, may look familiar to locals. He formerly was the pitmaster for Low's bbq which was a favorite of many visitors to Portland 's Farmers Market where he used to park his pit and serve up the 'que. Recently, Rodney and his partner, Ken, split up the Low's team. Ken now is serving food at Ken's Place and Rodney welded himself a new pit and parked it out back of this petite new space and started burning some logs. Podnah's focuses on a Texas-style cue with straightforward rubs and bold sauces which stray from the 'universally popular' sweet and sticky.
Our meal started with an unexpected highlight-- the iceberg lettuce wedge with blue cheese dressing, which had a nicely tangy dressing with a robust blue cheese flavor that was not overly twangy or too rich. Everyone at the table loved it, but we were there for the meat.
Of the main event, the spare ribs and the brisket were the real stars. The pulled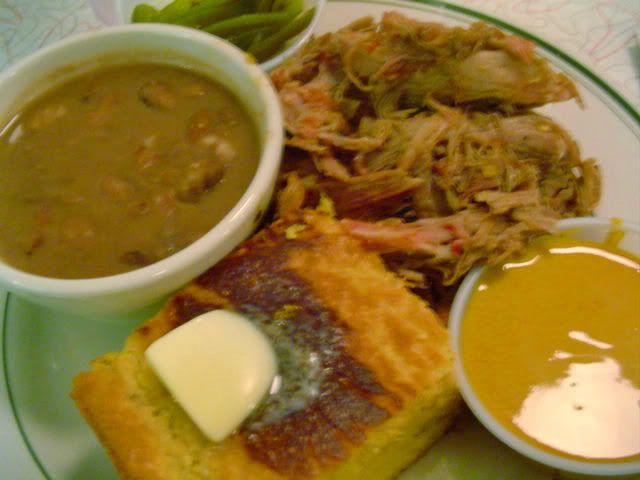 pork was doused in a vinegary sauce that became a bit too sour after a few bites, and was lacking in the crunchy outside flavoring (known as bark). The larger chunks of inside meat, while generally moist, were slightly under seasoned and somewhat lacking in tenderness.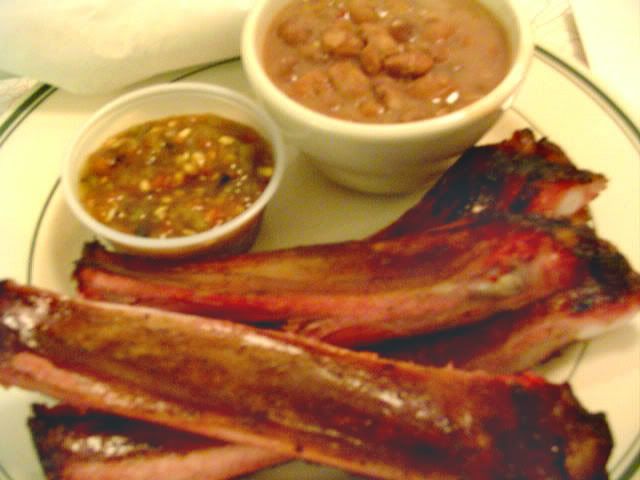 The ribs, on the other hand, were wonderfully smoky and moist, with meat that came off the bone cleanly without being mushy or overcooked. They had a pleasant rub and didn't need any of the sauce that came with them. We tried both the tomato-based and mustard sauces that were on our table. Both were strong and distinctive, but the mustard sauce seemed to be missing something to round out the flavor. It was a bit too much like just plain yellow mustard.
Also outstanding was the brisket, which was among the best bbq restaurant brisket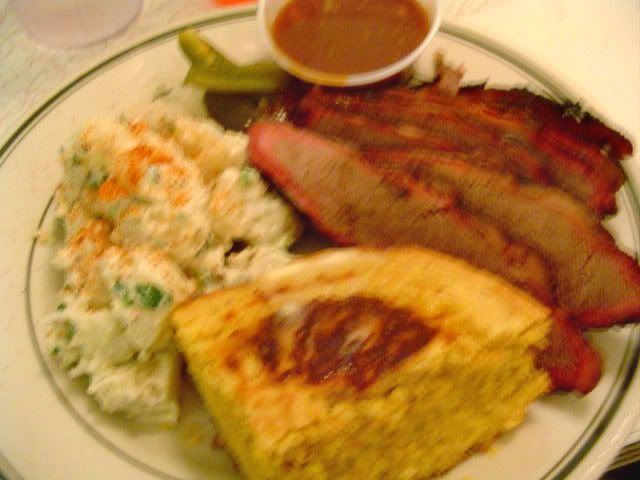 I've ever had. It was sliced wonderfully, and was moist, tender, smoky and beefy, and not overcooked. It was fork tender, but not stringy and didn't have the boiled, pot roast-like texture and flavor from overcooking brisket in foil or liquid. The sides, ultimately, were all forgettable, unfortunately. Two people at our table mentioned their potatoes in the salad were actually undercooked and still crunchy. The pintos also could have used a little more 'jazz'-- maybe some bacon or green peppers. They were a bit flat. The corn bread, however, was a nice accompaniment.
They have a nice a nice, if limited, selection of beers and pop and are offering
specials including smoked prime rib by the inch and, potentially, lamb ribs. Call them for more info.
If you are a bbq lover in the PDX area, you owe it to yourself to get over to Podnah's and chow down on some brisket and ribs. Rodney's handmade offset smoker is out back and is a beautiful thing to behold-- especially when the sweet blue smoke is rolling.
Podnah's Pit
1469 NE Prescott
503.281.3700
Labels: BBQ, Podnah's, Portland, Restaurants, review