A Hero Aint Nuthin' But A Sandwich
Kansas City's
Baron of Barbecue
, Paul Kirk, has opened his first restaurant, and it is here in NYC. So far reviews have been mixed. Knowing that any restaurant (especially bbq joints, it seems) need a little time to work everything out (initial reviews of
Blue Smoke
were vicious, too), I decided to wait a while before checking in. My anticipation was great after his promising display at last year's
Big Apple BBQ Block Party
. Well, it's been a month, so let's see what the deal is.
The Baron and his kingdom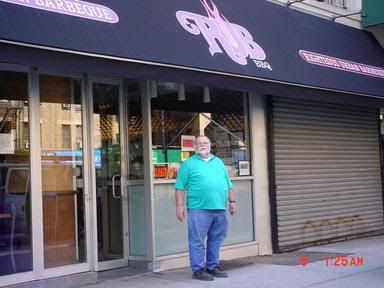 Above photo courtesy Frank "Pops" Shor (
dptydawg@aol.com
)
A View of the Kitchen and their J&R Cooker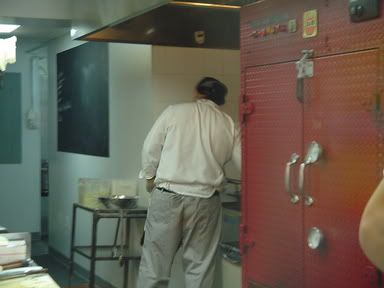 Though I didn't try it, the pastrami has been one of the most talked about items and biggest draws to this place.
R.U.B. Pastrami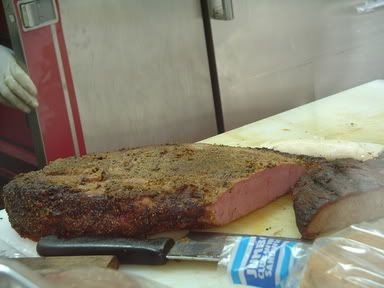 I have to admit that it didn't really call to me. I'll try it someday, I'm sure, but that smeared look just didn't whet my whistle. I decided to look at the other sandwiches for take out.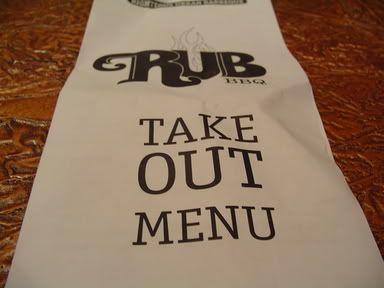 The place was pretty packed around 1 pm when I got there, and there were about 6 take out orders ahead of me. The staff was zipping around frenetically, but no one seemed to be enjoying themselves, or the customers. The bar is still un-stocked and incomplete, and as mentioned elsewhere, the interior of the place is still rough and unfinished.
Frenzy at the Take-out Counter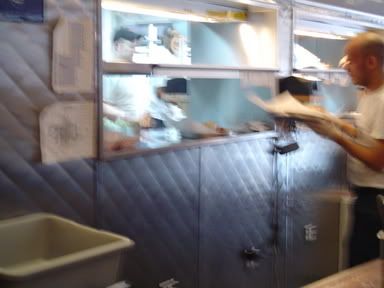 So, I decided on the brisket sandwich $9.75 and no sides. A bit hefty for a quick bite during the work week, but, hey once in a while it's nice to see how the other half lives.
Brisket Sandwich Comes on Whitebread or Roll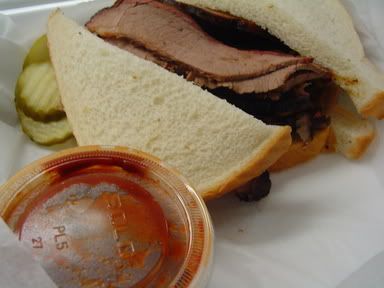 Well, maybe nothing could've lived up to my expectations, but this sandwich was a let down. My first reaction was that this is not nearly as big as the sandwiches at
Arthur Bryant's
. That may not be everyone's standard of comparison, but for me it is. The texture of Kansas City style brisket is different than the super-tender texas style that most people think of. The K.C. style seems to have a little elasticity, which may be your taste our not. The smoke flavor which was pleasant was almost non-existent, I really had to strain to pick it out. In terms of tenderness, I felt like from bite-to-bite I was eating a different sandwich-- one piece was most and flavorful, the next tough and bland. The meat was sliced by hand and some pieces were very thin, others were not. Taking a bite of the thicker cut pieces confirmed my suspiscion that the thin slices were intended to save the eater's jaw-- the meat was tough.
Close up of a Brisket Slice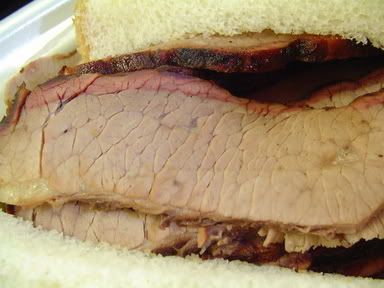 There was almost no bark (crust) on the meat, and the rub was negligible. Also, the sandwich was not really hot when they handed it to me. I don't know if the meat was held too long, or undercooked, or what happened, but it was a let down-- compunded by having eaten his brisket at the block party. The sandwich was good, but needs some help. To be sure, my plate was empty when I was done.
Will I go back? For sure. Despite the slightly high prices, there's more to the menu that I want to try and the flavor profiles were just fine. The sauce was a bit too bold for the meat, but was a complex, tangy example of the K.C. style. I urge you, tentatively, to give them a shot-- if they live up to their potential, this could become a real place to watch.
R.U.B. Righteous Urban Barbecue
208 West 23rdStreet; (212)524-4300