Spring into Brisket! Pt. 2
I sliced up about 1/2 the brisket and brought it into work along with the Bbq Sauce for the 4 folks in the graphics department-- they work some of the longest hours and pull off some real miracles. Around 10 am they said 'why wait for lunch?" and the food was gone in about 15-20 minutes. People were coming in from all over saying, 'Mmmm. What's that smell?' or, 'Meat at 10am?'
The brisket was purchased at BJ's, and trimmed of most of the surface fat.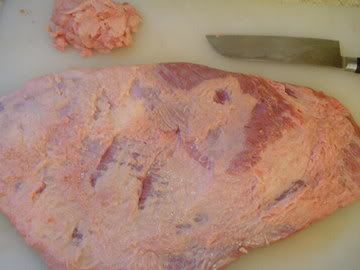 It was then injected with about a cup of liquid that included mainly broth, some 'worshestershire' sauce, apple juice a little tabasco, etc...I then applied the mustard slather and some doctored Dinosaur Bar-b-que Cajun Foreplay rub. I kept a some liquid and onions next to the brisket and mopped a few times.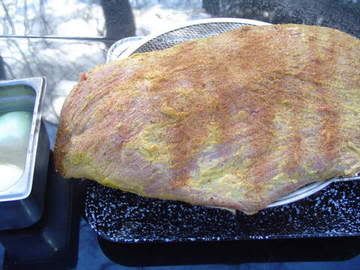 I used Oak and Hickory from my local firewood guy and Apple and Peach from Chigger Creek-- great wood.
The ribs got a honey and mustard slather and were dusted with the Rub With Love Pork Seasoning. They cooked about 6 hours. The brisket took about twice that. We also cooked up some short ribs using a sample of the Cowtown All-Purpose BBQ Rub. It was flavorful, but too salty for home use. I could definitely taste a powdered broth/soup mix flavor. I liked it more than Amy. For competition it might be a winner, but too much salt to eat much of it. The short ribs themselves were kick-ass. We decided we could eat alot of them. Not quite falling off the bone, and rich and beefy.
Lastly, I was asked a few times about the 'strange orange thing' at the end of the last post-- it was an orange float that was too big for the glass in which it was supposed to go. It was a tasty-- stuart's orange soda w/ Carvel Vanilla.
Say goodbye to days like these for a while. Thank god.