Firewalk with Me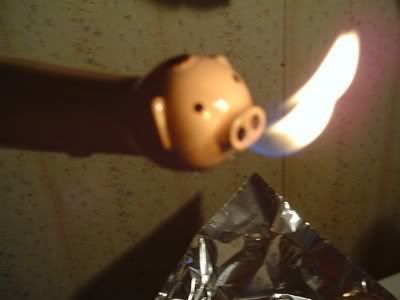 I've gotten alot of questions about how to 'make bbq' recently. I love showing people how to cook on the smoker, how to handle the fire and the meats, but explaining it all in email or on the phone can be tough. So, this begins what will (hopefully...) be a series of how-to's for cooking your own barbeque, whether on a little charcoal grill or a unit meant for the low-n-slow.
You don't need a big fancy grill, or any special equipment, just some beer, some time and some patience. The grill in these pictures cost me $25, the charcoal about $10 and a big batch of the cherry wood twigs you can see in the fire picture were given to me by a Farmer's Market vendor.
Our grill, Willy, the day he was born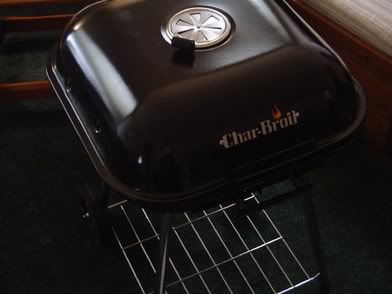 It is a big help to already know your way around the kitchen, what tastes good with what, how to spot a good cut of meat, etc....From that foundation the next steps are made a bit easier. Many of you will point out things that I missed or steps that I've left out-- this is meant as a very basic primer that assumes that anyone that absorbs all this and is hooked will pursue more info elsewhere-- the links on the right side of this page have tons more information.
Here's a piece from the New York Press that also has a good introduction to cooking your own:
New to the 'cue
Start your engines!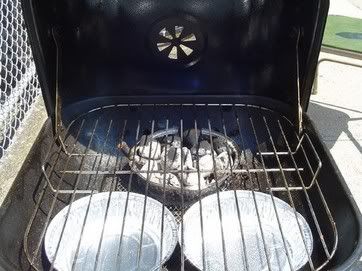 The most common barbeque meats to cook are pork butt (boston butt), ribs (spare ribs or babybacks), chicken, and brisket. If you are a complete 'newbie' pick something inexpensive like chicken thighs that are difficult to overcook and won't break your heart pricewise if you don't love your first attempt. The larger cuts, brisket and pork butt usually start around 6-8 pounds and take considerably longer to cook.
Assuming you have a grill or smoker to cook on, and that you have picked a meat to cook, then you are ready to move on to seasonings and other techniques. The foundation of your barbeque will be your dry rub. This is the spice blend you apply before cooking. There are many pre-made blends out there, and as many different recipes as there are stars in the sky. Here's a basic rub that has some heat and some sweet-- two key elements that you should always strive to balance.
Barbecue Spice Rub
2 tablespoons salt
2 tablespoons sugar
1 tablespoon brown sugar
2 teaspoons chili powder
2 teaspoons paprika
1 teaspoon cumin
1/2 teaspoon cayenne pepper
1/2 teaspoon black pepper
1/2 teaspoon garlic powder
1/2 teaspoon onion powder
Combine all spices in a small bowl. Store in an air tight container.
To use: rub on meat before grilling.
Yield: 1 serving
Adjust the blend to suit your taste-- more heat if you like spicy, more sweet if that's your taste. Try to keep flavors in balance so nothing is overpowering. As you grow more confident, add and subtract flavors to put your stamp on things. Keep notes and try to make all your changes gradually so you can track what works and what doesn't.
This holds true for tending a fire and other parts of the barbeque process-- don't try to change everything at once.
Beef ribs and an 8lb pork shoulder on Willy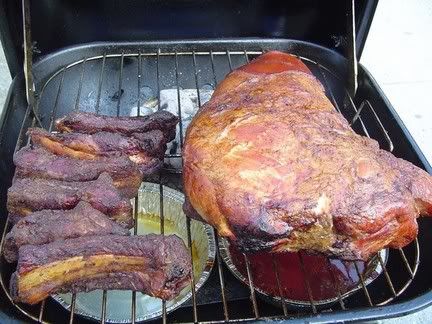 Next Up: Smoke Rises!