Spring Ahead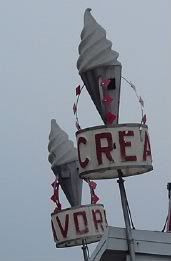 The grey days are here. It's strange how they come at the beginning of the year when we are all supposed to be looking forward to making a new start, refining the current version of ourselves. The ice and the wind and the wet keep coming, knocking down trees and people. Everyone wants to curl up and hit snooze a few more times. It's hard to not to feel crummy, to turn inwards on yourself. To all those who are struggling right now, I know you will break through. The seasons will change and the sun will return. The skys will be clear again. I promise.
Recipe:
Here is a hearty fall/winter soup that works well as a meal when paired with a loaf of fresh, crusty bread. For presentation at a dinner party, consider ladling this into a bowl alongside another hearty soup (like black bean) for a striking 'two-tone' presentation, or for a real 'gourmet' presentation, scoop the flesh out of a smaller squash and use that as a soup bowl (you may need to make a thin slice to create a flat bottom). Be careful not to cut through the skin, or remove too much flesh, or the bowl will leak. Vegetarians can substitute plain water instead of the broth.
Roasted Butternut Squash Soup
Olive Oil
1 2-pound butternut squash, halved lengthwise, seeded
2 cups (approx.) chicken broth
Pinch of grated nutmeg
1 cup nonfat milk
Preheat oven to 375°F. Using a heavy knife, carefully halve the squash- they are very dense. Scoop out the seeds. Grease a 13x9x2-inch glass baking dish with olive oil and wipe some on the cut side of the squash. Season the squash with salt, pepper and a few pinches of fresh thyme or other herb of choice. Place squash cut side down in prepared dish. Pierce each squash half several times with toothpick or skewer. Bake until squash is tender, about 45 minutes.
Using a large spoon, scrape squash meat into the food processor or blender; discard peel. Add 1 1/2 cups broth and nutmeg and puree until smooth. Transfer puree to heavy large saucepan. Mix in milk and enough broth to thin to desired consistency. Stir soup over medium heat until heated through. Season to taste with salt and pepper and another small pinch of the herb used to season the squash earlier. Ladle soup into bowls. Top with dollop of sour cream and chives, scallion or a sprig of fresh herb if desired.
Option: Add a clove or two of garlic to the roasted squash before pureeing for a little more bite. Roasted garlic adds a nice sweetness.