PJ Who?
I love hamburgers. I like burgers so much that even a mediocre burger can make me smile. Throw in some fries or onion rings and I might even laugh out loud. So, it was with great anticipation that I headed over to P.J. Clarke's with Amy to see what all the fuss was about.
Clarke's is a notorious NYC hangout with plenty of history, glamour and back-room politics adding to the legend. When we stopped in, there didn't appear to be any one famous, but the place was packed with what looked to be a few of the privileged neighborhood locals (i.e. people with money that look like they have money), a fair amount of loud, hitting on just about anything, bridge and tunnelers (hello, New Jersey!) and some out of town conventioneers who were charmed with just about everything they saw and were a little flattered by all the attention they got at the bar (see previous mention of bridge and tunnelers).
The Famous Burger at P.J. Clarke's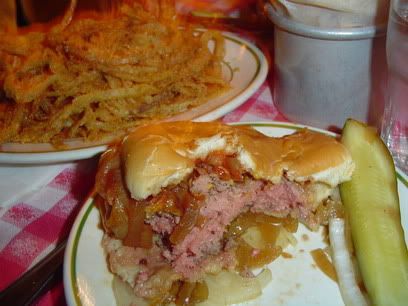 Now, I have to admit, I hate waiting for a table-- I hate lines in general. In restaurants, I foolishly believe that no meal can possibly be worth waiting for. Amy does not have this problem. What bothers me even more, is when a host tells you the wait will be 15 minutes while they have a bar full of people waiting and few seats and they know that 15 minutes is a lie. Well, after 45 minutes, when I was all set to explore burgers elsewhere, we got a seat. By the way, the bartenders asked us what we wanted to drink-- when we asked for a minute to think about it, we never saw them again.
So, the burger......Well, heretically, I ordered mine well done. As you can see from the photo, it was not. It was, however, a healthy mound of beef on a pleasantly pillow-like bun. It had a warm, beefy flavor that reminded me what real chopped meat tastes like-- the homemade burger of my youth. That being said, the sandwich was only luke warm, and the bottom bun was so soggy that I had no choice but to use a fork and knife or make a mess of myself. I suspect that my burger had to sit and wait while Amy's finished up. I ordered cheese and sauteed onions-- the onions didn't bring much but more mess to the party. Amy's straight up cheeseburger was delectable. The onion strings were superb, but did cause a grease overload sensation a few minutes later-- but they were worth it. The fries were crunchy, hot and salty with a nice creamy interior.
All in all-- a quality burger at a price (over $8). Amy says it's the kind of burger she might dream of. I'd go again if I was in the neighborhood, but wouldn't make a special trip. Can't wait for the Shake Shack to open up in the Spring.
P.J. Clarke's 915 3rd Avenue @ 55th Street (212) 317-1616 www.pjclarkes.com
Coming Soon.....The Pork and Provolone from Tony Jr's in Philly, and a review of the Airline Diner in Queens.....