Street 'Que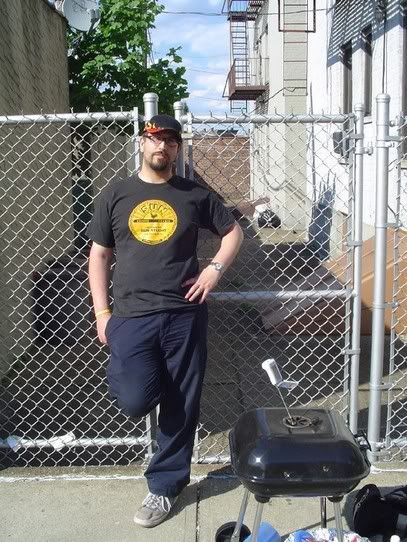 My 'friend' can't cook on a grill at his house, so he goes around the corner and cooks on the street in front of a neighboring building. Surprisingly, his grill looks alot like Willy, my new cheap cooker. Hmmmm.
There's been a recent debate over the term Urban Barbecue that has been popping up-- Blue Smoke, a popular bbq restaurant in NYC uses the term widely to define their version of pit barbecue which is served in a fairly cosmopolitan setting. The tag has been affixed to the new Dinosaur Barbeque restaurant and is part of the name of Paul Kirk's joint, Righteous Urban Barbecue.
Some claim that it is reflected by more exotic menu items, bolder flavors, or even the diversity of items served-- Blue Smoke claims to serve St. Louis, Memphis, Texas and Kansas City-style ribs. Could it be that atmosphere, attitude and style could transform a normally regional, often rural food into something different by transplanting methods and philosophy into a new environment? Is it imitation, re-creation or evolution? Is Paul Kirk's pastrami the ideal symbol of Urban 'Cue?
What does the term mean to you? How do you think it should be defined? Do New Yorkers have a new kind of 'que on their plates?