Cheeseburger in Paradise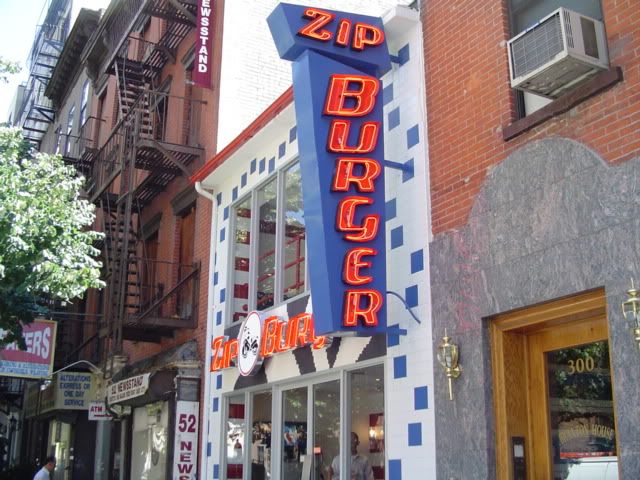 I stopped by the brand new Zip Burger for lunch yesterday. They've been open for almost two weeks now, so I gave into my curiosity which had been piqued for a long time watching them ready the place.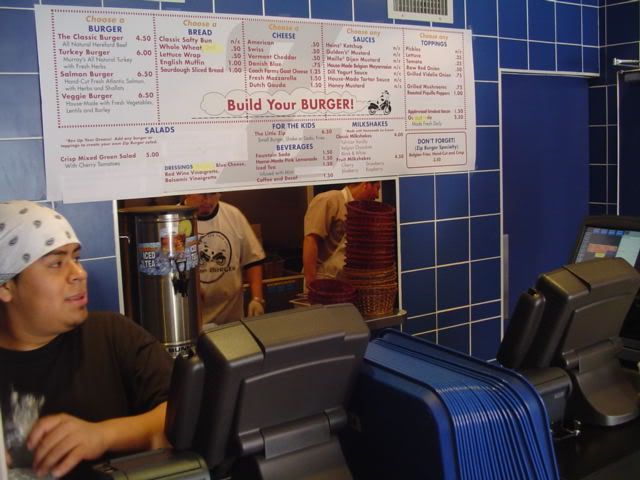 br>
br>
br>
br>
br>
br>
br>
br>
Few things satisfy like a nice, flavorful juicy burger and crispy, hot fries, and my mouth watered as I read the menu. There were a few items listed as sold out (whole wheat bun, guacamole—feh, who needs that stuff?) and I opted for the regular Hereford beef burger ($4.50), American cheese, pickles, lettuce, tomatoes, and sautéed onions. I also got an order of fries ($3.50). After watching them mix a shake, I wasn't too excited so skipped that and got one from Mister Softee (celebrating their 50th anniversary) on my way back to the office. I also wasn't too excited to know that other than pickles, all of the other toppings were an extra charge, so the total for my burger and fries was $10.50. Ouch. But, I figured if it's tasty, it could be an occasional luxury.
Well……I don't think I'll be going back too often. First of all, while I waited for my food I watched as a young employee swept the place, except instead of collecting the dust and whatnot for disposal, she just swept it into a corner. That didn't fill me with confidence. Also, the place was a humid lukewarm inside, not so comfortable for hot summer eating. The décor in the small upstairs eating area is minimal, yet tacky, with cowprint fabric adorning the seats.
What about the food? The burger was small, which is ok if it packs flavor (like Shake Shack, f'rinstance), but this burger was fairly bland and, unfortunately, dry. I was surprised the burger was dry, because it wasn't cooked to death and was still pink inside. The pickles were the highlight of the toppings—crunchy and lively tasting. The lettuce and tomato were just ok. The bun was negligible.
The fries, though a pretty golden color and nice and crispy, were mealy and slightly dry and grainy inside, not smooth and creamy. Another major disappointment because they looked fantastic and so few burger places in the city do fries well. Harrumph.
On a scale of 1-10, I'd give Zip Burger a 4.5 (if they get it together it could go higher), but with PJ Clarke's and Burger Joint at the Parker Meridian so close by, I don't see Zip Burger making much of an impact on the neighborhood.
Other News: Construction continues on 2nd avenue around the corner from Zip Burger on the new Krunch Pizza Bar. I don't know much about it (wonder if it's the same owners…?) but it looks like it will be a small, "upscale" pizza boutique. We shall see.
Zip burger
300 ½ 52nd street (between 1st and 2nd avenues) New York, NY 10022
(212) 308-1308
http://www.zipburger.com