Mama Tried
It's Mother's Day, and with my mom still ailing and fighting, I decided to share a trio of tunes about moms, or, by moms, too. Merle Haggard sings "Mama Tried",
Dr. Hook & The Medicine Show
give us "Sylvia's Mother," a
Shel Silverstein
classic, and lastly, The Mama's and the Papa's remind us all to "Make Your Own Kind of Music." These are all in Songs to 'Que By which are
right here
and if you click the Read More! below you can find out about these lovely tartlets I made my mom for dessert-- S'More tartlets...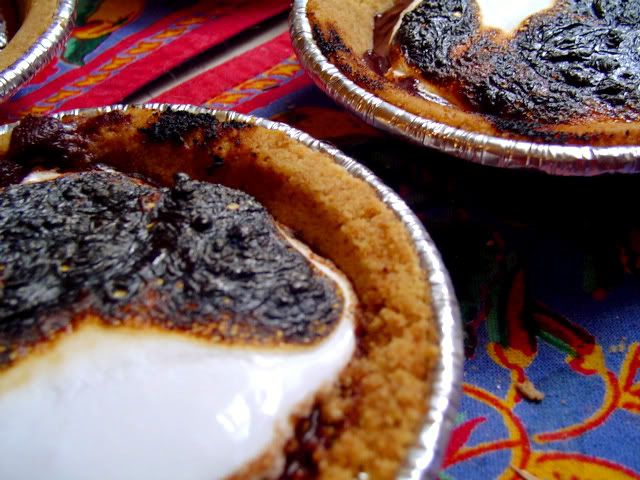 br>
br>
br>
br>
br>
br>
br>
br>
br>
I came up with these one night when Hiroshi and I were...conceptualizing. These couldn't be simpler, especially with the pre-made tart/pie shells. The pre-made graham crusts are quick and easy, but just don't match the flavor of fresh. They do make it quicker, though, as does the marshmallow fluff topping that got a quick flash under the broiler. The chocolate is a simple ganache recipe w/ some bittersweet, semi-sweet and unsweetened chocolate combined. I chose those three to make sure that this wasn't too cloyingly sweet.

Now, I like my marshmallows burnt all over, but not everybody digs that. Feel free give the top a lighter caramel color if you wish. If you have a torch, feel free to substitute it for the broiler where applicable.

The ganache was based on this formula:

8 oz. Chocolate
3/4 cup Heavy Cream
2 Tbsp. Unsalted Butter
2 Tbsp. Water (for the ganache mixture)

Small bowl of water (to moisten fingers)

Melt the chocolate slowly w/ the water. Once melted, add the butter gradually, stirring to combine well with each addition. Next, add the cream slowly as well, stirring to combine well with each addition. Refrigerate to set up.

After it is well stiffened, remove it from the refrigerator and allow to come to room temperature. Place 1-2 Tablespoons of ganache into the crust, dipping your fingers in the water to enable you to work the ganache without sticking. Add as much as you like.



Pre-broil: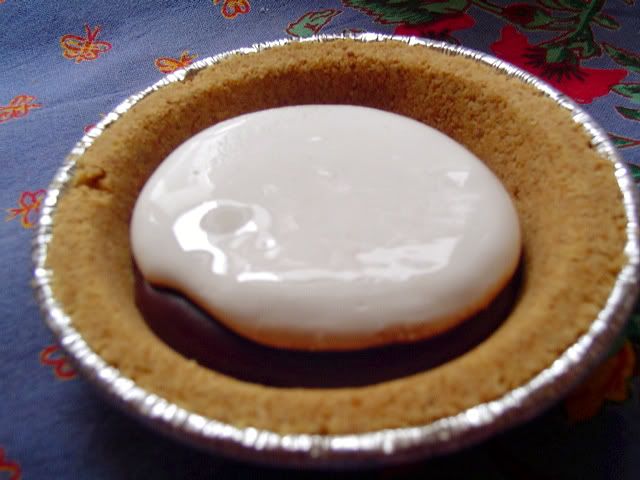 Melt 3 Tablespoons of marsmallow fluff in the microwave over medium heat, stirring regularly. Place a dollop-- approx. 1 Tbsp. on each tart, and broil to your desired color. Rest and serve, or refrigerate. Allow the tarts to warm to room temperature when serving.
br>


Ready to roll: