Disco Inferno: The new Tec-Char-Broil Grills
I recently received one of the new Char-Broil/Tec gas grills from the nice folks at Char-Broil to review. The new grills have a couple of really cool things going for them. The burner configurations are a combination of traditional gas flame burners with flame tamers and infrared burners, which might be familiar to anyone that has experienced the Tec grills. This model has 2 traditional burners, one rotisserie burner, one infrared burner and a sideburner that is mounted on the left side of the grill. I think they make larger models with more burners.
Essentially, the infrared burners on the new grills work like this (avoiding the technical jargon that I don't understand and can't explain)-- they take an ultra-high heat burner, and top it with a sheet of some kind of super-high heat tempered glass that absorbs the heat and spreads it evenly across the length of the burner area, creating a radiant heat surface with no flames to come in contact with the food. Cool! You can cook on the glass, if you'd like a flat surface, I suppose, and it also stops smaller food items like sliced onions or shrimp from falling into the abyss if they slip between the grates. Marinades and glazes essentially evaporate on contact with the glass, leaving a small spot of ash.
The traditional burners get plenty hot, too. And when we did our test cook, I was enjoying the option of searing over the flames and then finishing things over the infrared burner.
Between the two different burner types in the grill, the rotisserie and the sideburner, there's plenty of cooking space, which is very comfortable for the cook. The top shelf (or warming rack), is also a generous size and is constructed far more securely than what I've seen on many other gas grills. It is sturdy, wobble free and spacious. A very nice touch.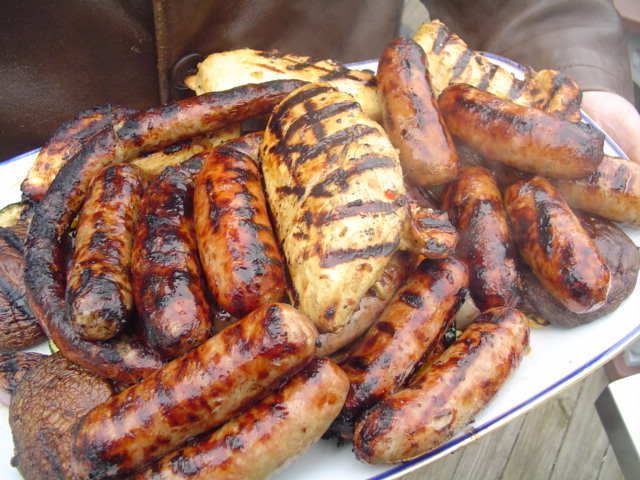 Other thoughtful features include the side burner which can be used for cooking corn, heating up a sauce, etc-- pretty much anything for which a stovetop burner might be used. On the right side there's a little basket that's about the size of a drawer in which you can store some tools (tongs, spatula....bottle opener).
The cook surface sits atop a sizeable cabinet in which you place your propane tank (unless you are using natural gas-- these grills are "dual fuel" and, with a converter kit can cook over natural gas). The tank, which sits on a 'shelf' that slides forward and back for easy access, can be locked in place securely. Even with the tank in there, the cabinet has plenty of room for additional storage.

Is this thing infallibly perfect? Uhm, no. It took a bit longer than I expected to heat up all the way-- but it was freezing cold out, and this was the first burn. We'll see if that changes. Also, the ignition system was a little different than what I've used before-- it doesn't just spark when you push it down, you have to hold the button for a few seconds for the burner to ignite. Also, it was a little slow to light the subsequent burners after the first one-- a little disconcerting as you hear gas whooshing into the chamber. Other than that, I've yet to find much to complain about with these solidly constructed and cook-friendly grills. It really is a pleasure to cook with.