Thank You Friends: Big Apple BBQ and dancing in the streets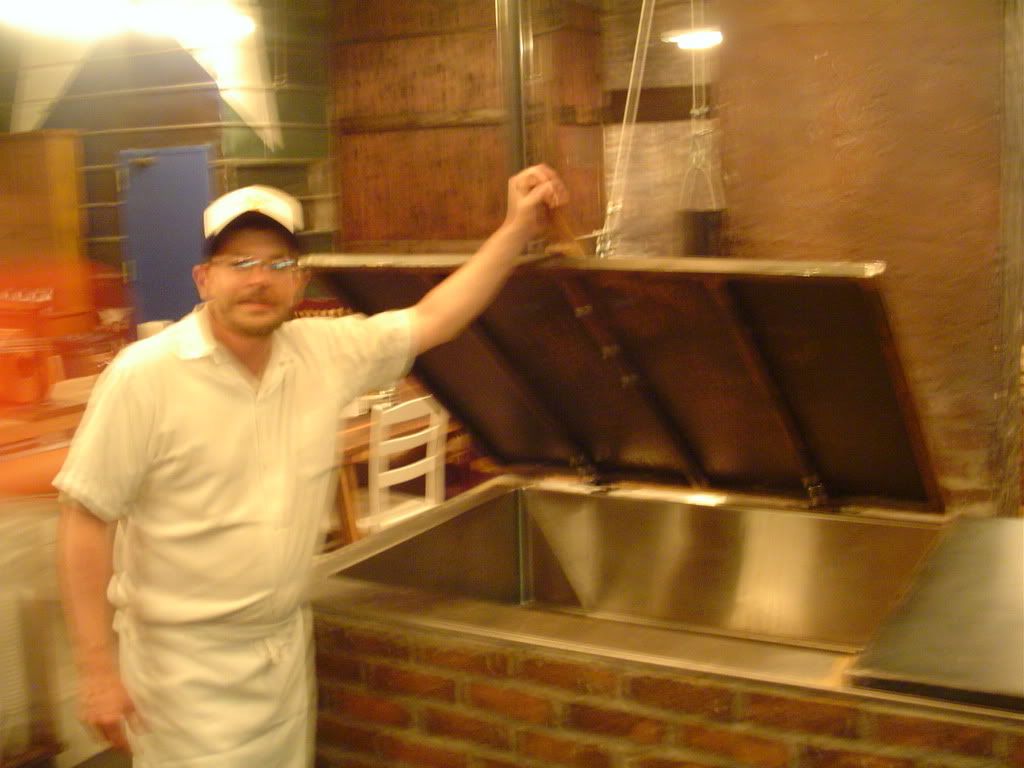 This just in!!

I want to thank my friend, Mona, of the fabu
Mona's Apple
blog for her shout out of the The Hampton Smoker in a recent
ABC News piece on food blogs
. Ms. Mona's stupendous site was mentioned alongside such heavyweights as
Ed Levine Eats
,
Chez Pim
,
Salli Vates
and other amazing food blogs that I read and re-read like an addict getting my fix. Thanks, Mona. You rock!!
Pictured slightly blurrily above is Pitmaster Robbie Richter of Hill Country NY, a brand new entry into NYC's blossoming bbq scene. The restaurant is based on the
old meat markets
in Texas that played a massive role in defining and developing bbq in this country. The story is told wonderfully in
Robb Walsh's book, Legends of Texas Barbecue
.
I was in
there
last night and it is spectacular. The 2-story space is decked out in raw wood and a carefully cultivated lack of frills. Upon entrance, there's a bar to the right and the food and pits are immediately visible right in front of you at the back wall across the room and behind the counters where you order the food. The food is ordered by weight (2lbs sliced brisket, etc..), removed from the brick show pit (as seen above) and then sliced and weighed right in front of you and served with crackers on butcher paper. Next, you move to the counter to the right for sides. A meal ticket is marked up and turned in when your meal is over (a la Katz's deli). A live music space as well as another bar is located downstairs. I don't want to spill all the beans about this place, but I will tell you there is no other bbq place even remotely like this in New York and I expect great things for them.
I'll be cooking with the Hill Country crew this weekend at the
5th Annual Big Apple BBQ Block Party
. Stop by and say howdy, if you get a chance.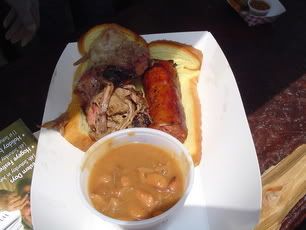 For more on Hill Country NY:
Off the Broiler has a report and some great pictures
of the restaurant.
And NY Magazine has a piece on the opening, as well.