The Short End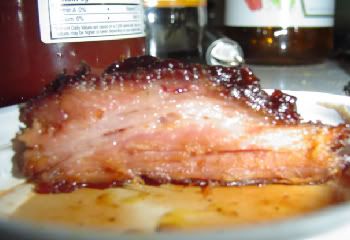 My friends, there are few things that satisfy like a piece of bbq from the pit that has been slow-cooked in wood smoke until the meat is redolent with the aroma of the wood and the food's own fat dissolves and renders the meat juicy and succulent.
Hiroshi and I pulled the membranes from the back of these ribs, slathered them with some cheap yellow mustard and then rubbed them down with a combo of brown sugar, black pepper, pasilla pepper, a little cumin, garlic powder, salt, etc... and let them rest for a few hours. We threw them in the pit when the temp. had hit around 280. The ribs went in, and the temperature of the pit settled in around 230 and stayed between 220 and 260 for the next 6 hours. When they were done, the spares were pulled out, wrapped in foil and set in a 225 degree oven for about an hour. I opened the foil, squirted these with some honey and let that go for about 1/2 hour.
In the meantime, I made a slightly modified "Struttin' Sauce" from the book "Smoke and Spice" and thinned it a bit with cider vinegar, honey, and some rendered rib juice, then brushed that on the ribs and let them go until the sauce was sticky, but not runny. Mmm-mmmmm.....