Don't Lie To Me
I know I'm called a bbq snob, an elitist and other flattering names for my sometimes overly enthusiastic musings on what bbq is or is not, but a little piece in the
NY Times
got my blood boiling this morning-- and it didn't have anything to do w/ the leaking of secret governmental operations. No, this was a piece about the 'world famous'
Lobels Butcher Shop
in the overpriced haven of NYC's Upper East Side.
Now, I could never aford a piece of trimming in this place, let alone an actual steak. After reading the piece below, I doubt I can stomach it anyway.
No Pit in View, but Smoke on the Palate

Barbecue's many styles have a sense of place, notably Kansas City, Texas and Memphis. But not New York. Yet Lobel's, the Upper East Side butcher, has introduced what it calls barbecue beef and others might call Manhattan barbecue. It's not smoked or highly spiced, it's made in a pot on a stove, it's available ready to eat, and while it's delicious piled on a bun for a picnic, a platter of it would also draw raves at a terrace buffet.

Because New Yorkers tend to prefer lean first-cut brisket to the richer and fattier second cut, Stanley Lobel has come up with this new item using the top section of the second cut. He pots the soft-textured meat and mixes it with Lobel's mild honey-based barbecue sauce. It fairly falls apart, sort of like pulled beef. Cooked, the beef is $24.98 a pound; uncooked, to simmer at home or braise with onions, it's $18.98 a pound. The sauce is $9.98 for a pint jar; 1096 Madison Avenue (82nd Street).
I don't know about you, but I can't imagine calling anything that has been completely cooked in a pot on the stove bbq anything. Not only is this disappointing, but by calling it Manhattan Barbecue, they demean the true purveyors of the art that inhabit our city. Phooey on Lobel's and the NY Times. I call
shenanigans
.
Anywho. Here's a pork chop that was rubbed w/ the delicious
Dizzy Pig Raging River
rub that I mixed with a little extra garlic and some turkish peppers from
Penzey's
. After that you will see some delicious Challa bread
"Freedom Toast"
(hehe) that Amy made for me a few days ago. Rich and creamy inside with a hint of crispness and a slight spice flavor. I added a little grand marnier when she wasn't looking.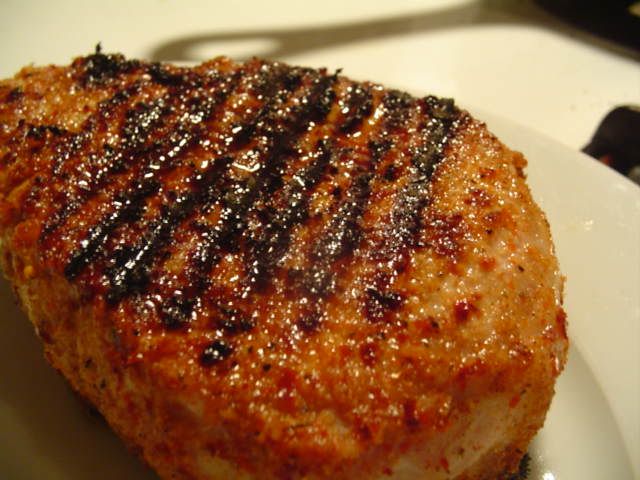 br>
br>
br>
br>
br>
br>
br>
br>
br>
Lastly, I'd like to encourage you all to head over to the
Megnut blog
which has somewhat recently switched to an all-food format and is featuring posts by
The Soul of a Chef
author
Michael Ruhlman
this month. Coolio.