Beautiful Day
Hello friends-- did you see your pals
The Hampton Smoker
and
WhiteTrashBBQ
in today's
New York Daily News
?! Our favorite reporter, the ever-tasteful Rachel Wharton wrote about the Grillin' on the Bay contest that we hosted, and previewed the Long Island
Grill Kings
contest which is coming up next weekend (July 15-16, Belmont, NY).
Click Here For the Article Named "Barbecue Bravado".
There's a great picture of Robert from WTBBQ, as well as some great recipes-- Robert's rib recipe, and my all purpose brine. Look for Rachel's articles in the Daily News as well as
Edible Brooklyn
magazine.
Below is a picture of the 9lb prime rib we cooked for the July 4 weekend. It was slathered with mustard, worcestershire, and minced garlic before getting a dry a rub of white and black pepper, cayenne and paprika. It was cooked around 350-375 over oak and hickory logs for about 2 hours until it hit 120 in the center. Yum.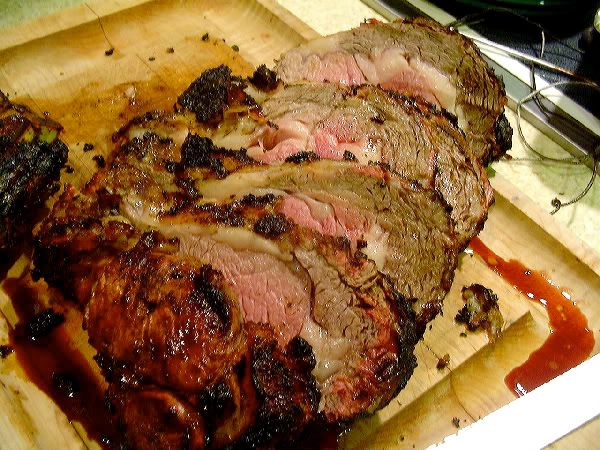 Check out the Smoke Signals section (top left of the page) for the new
Song to 'que by
, The Left Banke's "She May Call You Up Tonight." A killer power-pop tune from the folks that brought you "Walk Away Renee."
br>
br>
br>
br>
br>
br>
br>
br>