He's the Uncle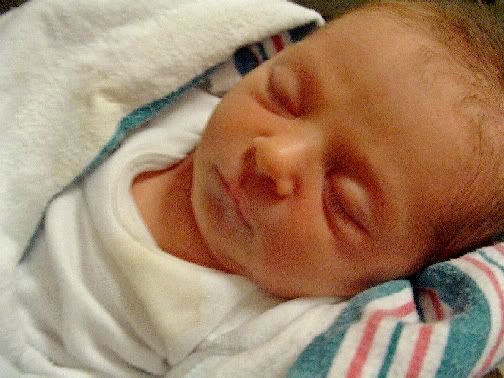 Wow...I'm an uncle (again)! My brother and sister-in-law just had their baby, Gwen Florence, last week on Thursday. The wife and I went over and saw them all in the hospital and, well, I was blown away.
I've never been much of a baby person, to be honest. They're cute and all, but they never took my breath away or anything. Before meeting Gwen, the youngest baby I'd ever met was Lilly, the daugher of my great friends Mark and Alison from Philly. They brought Lilly over when she was just 2 weeks old and she was a gem.
My other niece, Hannah, lives out in Oregon and I first met her when she was 5 or 6--but they live so far away I didn't feel like much of an uncle, but with Gwen living so close by, she won't escape that easily! I can hear her now-- "Uncle Matt is coming over again!? He isn't going to make me eat bbq is he??" Yes, Gwen, I will, but not yet...
The combination of her tiny, soft hands, her pristine skin and features, the way her eyes roll around in her head unsure of where to focus, the little cooing sounds, the lack of crying and that new baby smell all tugged on the ol' heartstrings. Even more compelling than that, though, was the aura of absolute bliss tinged with pride and uncertainty that emanated from the proud parents. As I sat there I had the realization that millions of people must have all the time-- we all were teeny tiny and new at one point before we 'grew up'. Please don't be in a rush.
There's a huge world waiting for you Gwen, and I know you will wow them all.