Rocky Mountain High: Oysters, Nuts and more!
I'll be honest with you, the idea of eating a deep fried, glistening, crispy, succulent testicle out of boiling oil doesn't really float my boat, but I have often wondered what might draw people to do it. What is the texture of a fried gonad?
I've seen them in the raw state, and it aint pretty.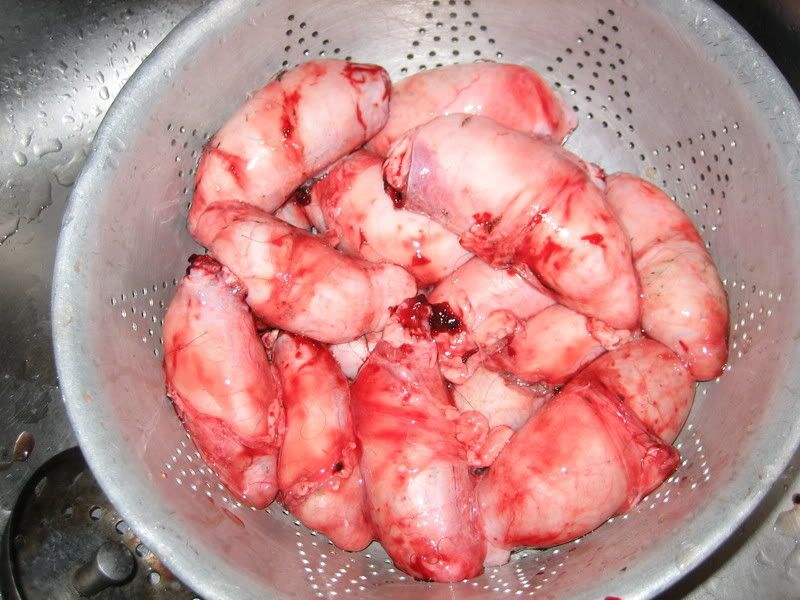 (photo courtesy of http://www.ruhlman.com)
I suppose they might be tasty, though. Michael Ruhlman's blog has a pretty thorough piece on the making of Rocky Mountain Oysters.

I also came across the (self-proclaimed) largest collection of testicle recipes in the world right here. They also conveniently link to their road kill recipe collection. As Thanksgiving approaches, I thought I would post one of their recipes that fits the season. 'Njoy!

Butterflied Turkey Nuts

3 pounds of fresh turkey nuts
1 pound of flour
Salt & Pepper


Heat fryer to 350-degrees.
Rinse nuts under cold running water and pat them dry with a paper towel. Make a lengthwise slit in your nuts, almost cutting in half but not going all the way through (butterfly). Dredge in the seasoned flour and fry immediately. Have a platter with a towel to drain your nuts on. Serve your nuts with your favorite sauce.

Recipe From: http://www.funlinked.com/testicle/recipe.html