Crazy for 'Cue Pictures
All--
Here are two pics generously sent by
Enid Alvarez
the photographer that took the pictures for the
Daily News Article
. She was a real trooper, working patiently with us, braving the on-and-off rain of that evening, and joining in some 'que and brew on the streets of Queens. Please visit her site, check out her work and tell her that The Hampton Smoker of Ridgewood, Queens and East Hampton says thanks!
The picture that ran with the article
The Backyard Chef with Peach-Smoked Chicken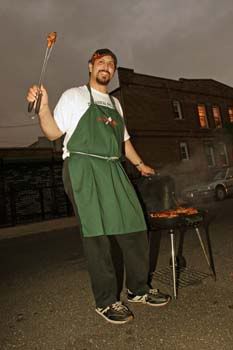 Photos Courtesy Enid Alvarez
I also went to send a huge thank you to Rachel Wharton who wrote the article. I was very flattered by what she wrote and appreciate the time she put into that piece. You are welcome at our table any time, Rachel and Enid.