Burning Down The House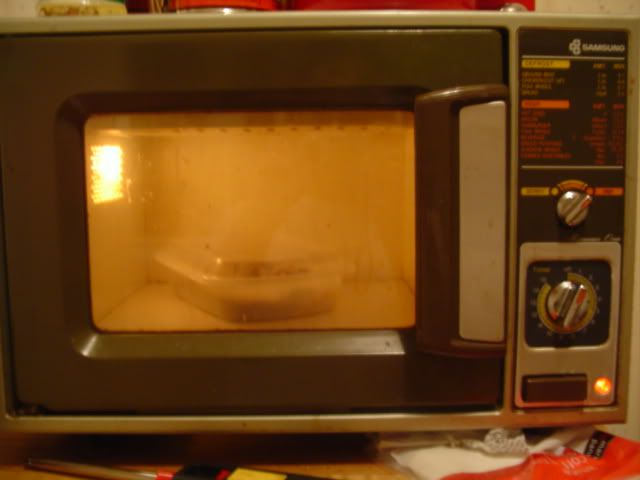 How close have you come to dying? Just a few days ago, I came pretty close. In fact, we almost took the whole building out. Not on purpose, for goodness sakes. Accidents happen. It didn't even have anything to do with our dinosaur of a microwave, which is the star of this post. I've mentioned our pathetic microwave before, but wanted to show her off to get some reactions. Aint she something?
What happened is this-- the other day, I made a nice dinner for Amy, but was distracted. She was on her way home, so I turned off the heat under the pot to let everything rest and get ready for plating. Well, she was running late, and I went to turn on the burner again, but never lit the flame. We don't have a pilot light. Gas was quietly streaming out into the apartment.
We went, had our dinner and I brought the plates back to the kitchen. I thought I smelled gas, but ignored that thought for some reason, and went to bed. One the weekends, I always get up, go to the computer and often I use a lighter for something, though I don't smoke cigarettes. Anyway, I got up on Saturday, went to the computer, picked up my lighter and right as I was striking the flame I thought, "Do I still smell gas?" And, thank god I did. The burner was wide open and had been for about 10 hours.
I opened all the windows, turned on a fan, and sat and waited for the sun to come up, feeling alive. Just barely.