Indian Summer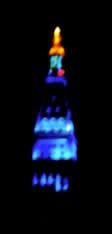 I know it's not politically correct to call it Indian Summer, but it's the name of a song by
The Beat Happening
, and well, that's that. The heat wave here in NYC has continued-- though, it has been spotty. One day it will be 23 degrees/misty at wake up, by noon, snow, and 50 for the trip home. And that's only a slight exaggeration.
Met up with my buddy Robert from
WhiteTrashBBQ
on Thursday at
RUB
for a bite with the boys from Big Island Barbeque. We sampled the baby backs, burnt ends, spare ribs, ham, pulled pork, sausages, and pastrami. Robert and I took a nice tour of the kitchens and spent a while talking with Andrew, the owner. He's always generous with his time and his information and has plenty of plans for helping to promote barbeque in New York, which is fantastic.
RUB's ribs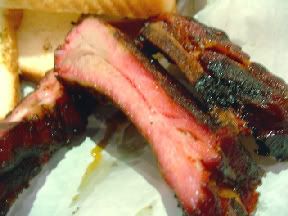 Last night I roasted a chicken with root vegetables-- butternut squash, beet, carrots, onion, garlic, a granny smith apple, and a lemon. I also roasted some brussel sprouts and made a key lime pie using my friend Mimi's recipe which is included below.
Key Lime

Pie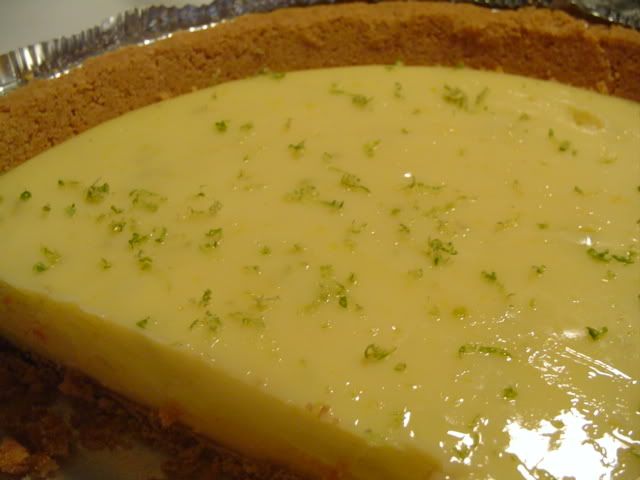 This recipe is pretty straightforward and, from my experience, works pretty much as written. As far as equipment, a juicer, a rasp grater and a whisk are about it. I know that it doesn't have Key Limes in it, but this is awesome stuff. Save a little grated lime peel for sprinkling on top when you take the pie out of the oven. Thanks, Mimi!


Graham Cracker Crust

1 pkg graham crackers, finely crushed
2 1/2 tbsp sugar
5 tbsp unsalted butter, melted




Key Lime Filling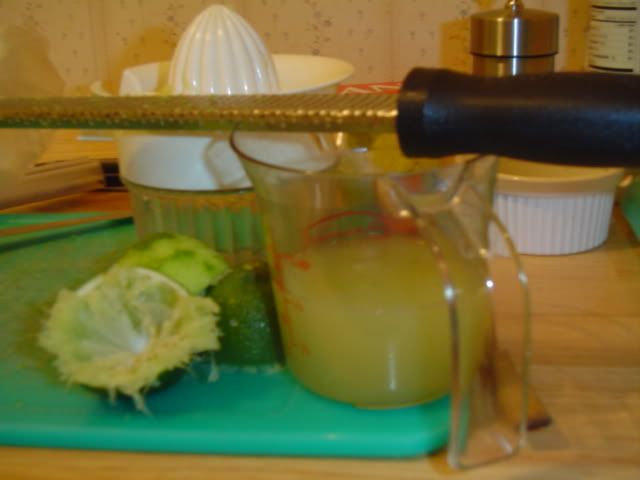 4 large egg yolks
1 (14oz) can sweetened condensed milk
2 tsp grated lime zest (I use a little less than this)
1/2 cup fresh lime juice (from 3 or 4 limes) (I use a little less than this too)


Whipped Cream Topping

1 cup heavy cram
1 tbsp sugar
1/2 tsp vanilla extract

Preheat oven to 350

Make graham cracker crust. Combine graham cracker crumbs and sugar. Add melted butter and stir until the crumbs are evenly moistened. Using finger tips, press crumb mixture evenly over bottom and sides of pie plate. Bake for 8 to 10 mins until edges are light brown. let cool and reduce oven temperature to 325.

Make filling. In large bowl, whisk egg yolks, condensed milk, lime zest, and juice, until blended. Pour the filling into the crust.

Bake for 15 to 17 minutes until the filling is just set. center should be slightly jiggly if shaken. Cool on wire rack then refrigerate for 3 to 4 hours until chilled.

Make whipped cream and serve immediately.

** I usually make 1 1/2 times the filling proportions to have a thicker key lime fill.

Enjoy!!