Judy Is A Punk
So, I mentioned once before that most of the titles of my posts are
song titles
or lyrics, so I hope that someone out there gets the jokes or connections. Usually the connections are oblique and related to the particular mood that I'm in when I get a chance to do the blogging. My moods are generally all over the
map
-- I'm one of those leg bouncer, can't sit still kind of people.
Anyway, today, I'm in a pretty feisty mood, and I also feel bad because I turned the comments section on
Mona's
blog into an episode of the Jerry Springer show for a minute. Yup, I need a vacation. Even the usual bickering about
bbq
got on my nerves today. Yeesh. On to the food.




Lentil Soup



Since we've been so busy with who-knows-what, here's just a recap of things eaten around our house.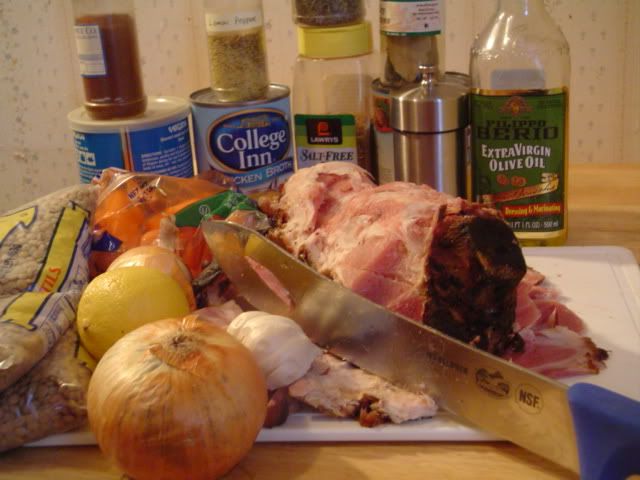 I had a leftover Wubby-cooked, double-smoked ham bone that had plenty of meat left on it, so I decided to mix up a huge pot of lentil soup. I used the big ol' pasta pot, 2 packs of plain-old brown lentils, one big and one small onion, 2 carrots, a couple cloves of garlic, the ham and bone, some lemon peel and seasonings. Covered the whole thing with water, 2 cans of chicken broth, and plenty more water. Once it came to a boil, I threw on the lid, lowered the heat way down to gently simmer, and let it cook for a few hours.

I'm a firm believer in layered flavors, so I season and re-season along the way. This had 2 bay leaves, about 2 teaspoons of celery seed, a tablespoon of black pepper, a tablespoon of chicken broth seasoning,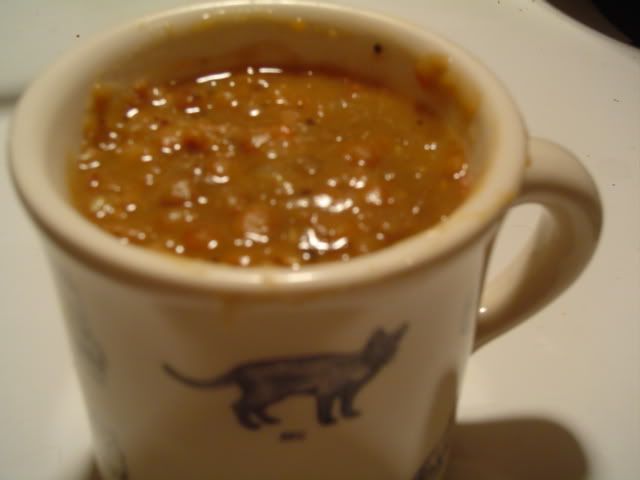 and a bunch of whatnot also. I don't really measure and I think once you have the basic soup down, add your favorite spices, that's what cooking's all about-- try some thyme. Anyway, once the lentils are nearly tender, I crack the lid of to the side to let it start to reduce a bit. Continue to stir and check frequently, when you get the consistency you like, it's done.