Happy Anniversary to Us
Well, a year has blown past us too fast. Sept 18 one year ago, at 10 am, I was pacing on the front porch of my parents' house in East Hampton as the last gasp of Hurricane Ivan began cracking open the skies. My wedding caterer (and friend), Rob Richter from Big Island Barbeque was across the street with Barry and Mr. Cutlets, cooking through the rain; my friends and family were yet to arrive. To their tremendous credit, the only thing that the guys from Big Island asked for was some dry towels. With no complaints and no worries, they made me feel alot better. Then the power went out. I knew the liquor had already been delivered and had absolute faith in the food being ready on time. The judge (
my aunt, Alice
) was accounted for. Running through the checklist in my mind and knowing those essentials were in place, a sense of calm washed over me. I knew we were doing this no matter what.
About two hours later, my best man (and best friend) Greg showed up with his gal, Michelle, and soon after, the rain stopped, the wind stopped and the sun came out. As if on cue, the phone started ringing and the power started up again. The messages were pouring in-- roads are washed out, trees are down, but we're on our way. This was an encouraging sign. Thanks, Greg.
Well, by 4:30, the rain had prety much dried up, and people were in place for the ceremony to begin, and we never looked back.
She has no idea I'm doing this post, but I want my wife to know how I feel, although I tell her everyday. Putting this out in public makes it feel more substantial, as it did when I recited my vows to her a year ago. She is my anchor and my hope, my greatest supporter and biggest fan. She is nicer to me than anyone has ever been before in my life, and understands me in ways that are astonishing. I do my best everyday to honor her and make her feel the way she makes me feel. She is an incalcuable asset, an invaluable find-- a compass to a lost soul. I will always be grateful.
C'mon, isn't it time for drinks already?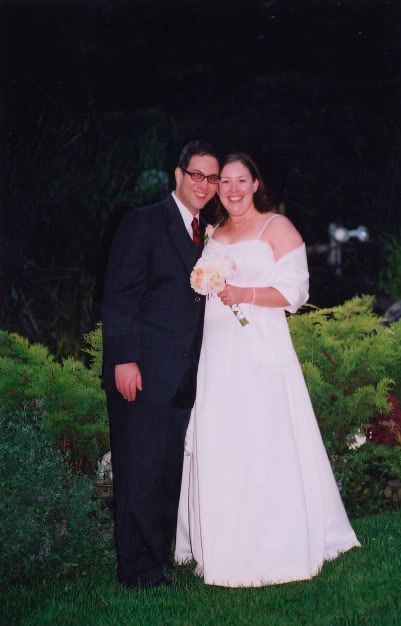 When can WE eat at these beautiful tables?