Paul Kirk BBQ Class in New York City
The first of its kind...and hopefully not the last!
Sponsored by
RUB BBQ
To Benefit The St. Mark Sports Association

When: October 21, 2006
Where: Water Taxi Beach, Long Island City, NY
Rain or Shine!
Background:
Paul Kirk
, the legendary Baron of Barbecue, Barbecue Guru, Ambassador of Barbecue, Order of the Magic Mop, Certified Barbecue Judge, Kansas City Barbecue Society Board of Directors, Inductee into the KCBS Barbecue Hall of Flame, Author of numerous cookbooks and 1990 Chef of the Year Greater Kansas City ACF Chapter is coming to New York City to teach the Baron's School of Pitmasters.
This class is suited for the back yard BBQ enthusiast, the seasoned competitor, or those considering opening a BBQ joint (restaurant). The Baron will cover the basics of BBQing Brisket, Pork Butt, Pork Ribs, Chicken, and Sausage. He will also cover fire management, fuels, BBQ rubs and spices, BBQ sauce, contest presentation, among many other subjects.
How much: $250 per person - THIS CLASS IS LIMITED TO 40
Click Here For The Entry Form For The BBQ Class
Students Must Bring:
Cookers (from Weber Kettles to trailer models)
charcoal, wood chunks, logs or chips, knives, tongs, cutting boards, apple juice, tables, chairs and any other furnishings you would bring to a contest, including
aluminum foil, pop-up tents or canopies, coolers, gloves, drinks, ice, etc…. as well as any and all misc. cooking items or equipment you need for outdoor cooking.
About the St. Mark Sports Association:
The St. Mark Sports Association is a Brooklyn based non-sectarian sports program for boys and girls from ages 4-16. We provide children with the opportunity to play and learn competitive basketball, swimming and soft ball. We also offer girl's cheerleading program. We are part of The Special Olympics, The Jr. NBA, The Jr. WNBA, CYO and The Brooklyn Children's Baseball and Basketball Association. We are a non-profit organization. We do not discriminate. All children living within our neighborhood are welcome into our programs. The St. Mark Sports Association. Thank you for your support.
Website:
http://www.stmarksports.org
The Baron at work at the Big Apple Block Party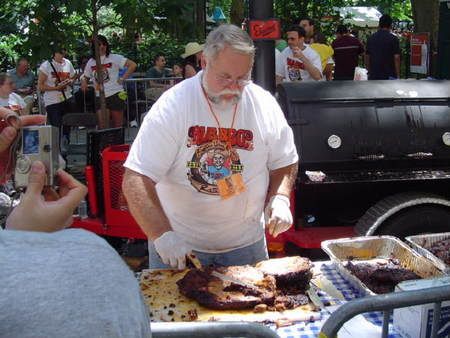 Read more!