Vacation's All I Ever Wanted
Hi all--
Look for your pal, Backyard Chef, in this upcoming Sunday's
New York Daily News
. I was interviewed and photographed for a piece on grilling/bbq fanatics by the very cool
Rachel Wharton
. I know that my buddy Rob from Big Island Barbeque (NY State Grand Champions 2005 along w/ Dr. BBQ!!) is in the article as well, but that's about all I know on that score.
Just got back from a few days in Cape Cod with the in-laws. What a great time. The weather was perfect, and sunday night the bunch of us sat out under the stars eating some ribs and pulled pork that I brought, which we served with an amazing tomato salad put together by my brother-in-law Chef Tim. I get to cook with him about once a year if I'm lucky and it is a thrill and an honor.
Thanks for all the recent comments, especially with regard to my mother. She appreciates that you are all out there sending her your positive energy.
I should be cooking up a huge batch of 'que this weekend with Hiroshi out in the Hamptons, so I'll keep you posted.
Lastly, I've added the excellent
Ole Smokey BBQ blog
to the links section-- visit them, praise them and tell them the Hampton Smoker says hello.
My 6-year-old Niece, Hannah, making bubbles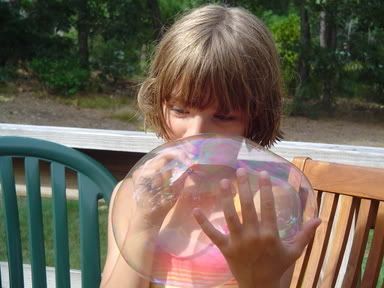 Read more!