Colder than a.....
5 degrees when I woke up this morning. With the wind, something like -20 or so. I have always said I could 'cue in any kind of weather. I'm rethinking that theory. But it's been weeks since I've had the smoker fired up and my withdrawl symptons are kicking in-- I mix rubs to keep the edge sharp, try out new sauce combinations. I may have to fire up the stovetop smoker again, just to smell the wood burning.
Hey, we're more than bbq around here, ya know...Introducing the BLOT: Bacon, Lettuce, Onion and Tomato.
The Blot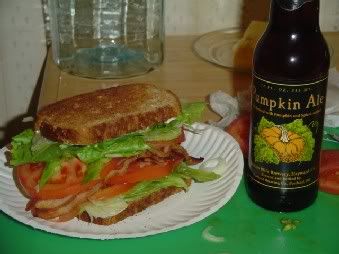 Tried some bacon from
Burger's Smokehouse
last weekend and it was pretty darn good. It'd be great on a sandwich. I might prefer
Nueske's
, but not by a whole lot. I do love that applewood flavor.
The in-laws sliced up a pepper-crusted, smoked pork tenderloin from
New Braunfels Smokehouse
and served it with some sharp cheddar cheese and
Carr's Crackers
as hors doeuvres at cocktail hour. Yum.
Pork Loin from New Braunfels Smokehouse
I really need to cook some ribs....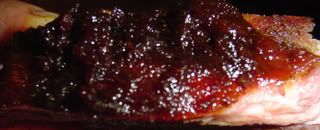 Read more!